Community information, support for families & children's mental health and wellbeing.
We recognise that there will be families in our community who sometimes need help and support outside of what we can offer from school. Please do call or contact us and we will do our best to help signpost you to local support routes which may be able to help.
In the Spring Statement at the end of March, the Chancellor announced that funding for the Household Support Fund would be extended to the end of September 2022 – helping support households who would otherwise struggle with energy bills, food and water bills.
The support available to families as of 16 June 2022 will include:
Community Pantries: Pantries are open to everyone in the community and provide access to food at a lower cost. They offer a range of fresh, frozen and general foods, which change each week. Access to the Community Pantry is by membership and, for a small weekly contribution, members can select food to a significantly higher value.
Many of these pantries have cafes and meeting spaces and offer other forms of support. They can put you in touch with organisations that can help with utility bills, health, employment, and education.
Details of local pantries can be found here:
Community pantries - Hampshire | Children and Families | Hampshire County Council (hants.gov.uk)
Support for utility costs: Households struggling to meet the cost of their utility bills for water, gas or electricity can contact their local Citizens Advice.
Details of local Citizens Advice offices can be found here: Local CA offices | citahants.org
Emergency housing support: This is available from district and borough councils. This does not include ongoing support for rent or mortgage payments. Details of how to access emergency housing support can be found here:
Support for housing costs - Hampshire | Children and Families | Hampshire County Council (hants.gov.uk)
If you have any queries, please email connect4communities@hants.gov.uk
To find out what support and activities are available locally search the Hampshire: Family Information and Services Hub (hants.gov.uk)
Learning in Libraries run a whole range of courses, for details and booking click here.
Break-up, Divorce and Legal Coaching Support for parents experiencing separation. (Private Coaching Service)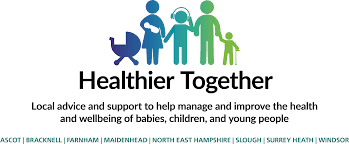 Frimley Healthier Together
Double Click To Change The Link